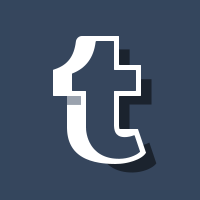 Name: Livvy Karp
Representative of: Tumblr (Website)
Gender: Female
Age: Human: around 18-20; Website: 9 years
Brief personality: Livvy, despite looking she has a cold personality, she is really outgoing. She doesn't hesistate (much..) to do anything. Her emotions can change very rapidly. And she can fangirl for a LONG time. Livvy can be confusing at times. But otherwise, she is pretty smart!
Brief physical description: Livvy has short, beautiful blue-colored hair, to match the color of Tumblr's logo. She has blue eyes to match her hair and has fair-toned skin. Her height is possibly 5'7-5'9. Livvy also wears black-framed glasses. Some days, Livvy wears a beige/tan long-sleeved shirt with black leggings. Sometimes a dark blue jacket, or a regular T-shirt. And sometimes wears shirts from different fandoms to show her multi-fandom website.
spoiler:
spoiler:
spoiler:
Brief history: Development of Tumblr began in 2006 during a two-week gap between contracts at David Karp's software consulting company, Davidville (housed at Karp's former internship with producer/incubator Fred Seibert's Frederator Studios which was located a block from Tumblr's current headquarters). Karp had been interested in tumblelogs (short-form blogs) for some time and was waiting for one of the established blogging platforms to introduce their own tumblelogging platform. As no one had done so after a year of waiting, Karp and developer Marco Arment began working on their own tumblelogging platform. Tumblr was launched in February 2007 and within two weeks, the service had gained 75,000 users. Arment left the company in September 2010 to focus on Instapaper.
In early June 2012, Tumblr featured its first major brand advertising campaign in conjunction with Adidas. Adidas launched an official soccer Tumblr blog and bought placements on the user dashboard. This launch was only two months after Tumblr announced it would be moving towards paid advertising on its site.
On May 20, 2013, it was announced that Yahoo! and Tumblr had reached an agreement for Yahoo! to acquire Tumblr for $1.1 billion in cash. Many of Tumblr's users were unhappy with the news, causing some to start a petition, achieving nearly 170,000 signatures. David Karp remained CEO and the deal was finalized on June 20, 2013.
Religious affiliation: N/A
Any special powers or abilities: Because Livvy is Tumblr, she is able to access Tumblr and change anything on the website by any means
Livvy's color in the chatbox is #006699