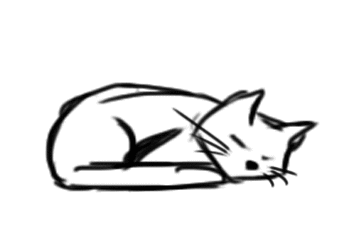 Name:
Julia ???
(They didn't bother with their surname.)
Representative of:
Procrastination
Gender:
SuuuUUUUUPER!
Age:
Honestly, Jul doesn't even know how old they are—they stopped counting after the first few centuries—but they reckon they look 18? Yeah. Probably.
Brief personality:
To make it short, Jul's a procrastinator. They want to sleep around all day, and this kinda makes them perfect for a Tumblr user, but they had procrastinated on making an account for that, and up until now they have no Tumblr account, or any other social media accounts for that matter. They're pretty laid back, always wondering why people fight when they could just, you know, put that off for another day, say, next week. Because of this one trait, they'd need a person who would force them to move, despite them not wanting to. Jul's actually pretty clingy and needs attention to live, so they'd need cuddles often like, probably every hour. They're also pretty wicked and on the grey spectrum of morality—if it doesn't benefit them, they'd pay it no mind. They can be nice too, sometimes.
Conversation between Jul and the admin:
Brief physical description:
Jul has a short, messy, dark brown hair, cut short, with the bangs just hanging over their face. They have this squinted-eye look that would make them seem like they just woke up (which is true most of the time). If they were up for a long time, their resting face would always have this amused look, even though there was nothing to be amused about. They're also like, in an unhealthy shade of pale, so unless someone tells them to go out, they won't. Jul usually wears a sweater twice their size, more likely a dark colour, and pajama pants, because they're still procrastinating on changing clothes, like, maybe later. They're also barefoot. If someone would actually bother to dress them up, maybe they'd look more presentable than this.
Brief history:
Procrastination (from Latin's "procrastinare", that translates in to: the prefix pro-, 'forward', and the suffix -crastinus, 'till next day' from cras, 'tomorrow') is the avoidance of doing a task that needs to be accomplished. Sometimes, procrastination takes place until the "last minute" before a deadline. Procrastination can take hold on any aspect of life—putting off cleaning the stove, repairing a leaky roof, seeing a doctor or dentist, submitting a job report or academic assignment or broaching a stressful issue with a partner. Procrastination can lead to feelings of guilt, inadequacy, depression, and self-doubt.
More:
Religious affiliation:
Jul has no religion. They have procrastinated that for like, millennia.
Any special powers or abilities:
They can even procrastinate stress and if that's not a special power then I don't know what is. Also, they can make people procrastinate with just some of their words if they'd actually use it, but most of the time they won't because, maybe they can just do it later.
Their color in the chatbox is
#ff9900
.