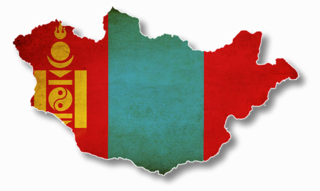 Name:
Naranbaatar
Representative of:
Mongolia
Gender:
Male
Age:
45
 ( his history spans over 5000 years ago but all the nomadic tribes were established together in 1206 under Genghis Khan)
Birthday:
11th of July
Relationship:
Married to Temujin
Brief personality: 
Personality type:
 He has a "retired badass" mindset, and generally tries to be jovial with those he'd ruled over before. If they get angry, he just laughs about it and tries to convince them it's water under the bridge. Sometimes he makes little paper boats and throws them across the room at Kiku. He is a wonderful storyteller. But he has trouble living in the present. He is much more serious and less competitive than he used to be. Many countries he has known would say that he has 'grown up'. Despite being serious Mongolia still has a sense of humour and enjoys small talk from time to time.
He is loyal, friendly, frank, independent and quite introverted
Mongolia is proud of his history, but he is also very patient, forgiving and generous. This is because he has the moral code of "Уул шиг түшигтэй" person, who is trustworthy like a mountain.
Headcannon:
When Mongolia is a little angry, he might cuss in Russian. However, if you genuinely anger him greatly, he will start cussing in his own language, which has several different words for common obscenities.

Brief physical description:
Mongolia is on the shorter side however still very tall.( Around 175cm). He is Robust and has  relatively muscular build. He wears an assortment of deels on sepcial occasions but mostly wears just casual clothes (duffle coats and bobble hats). Though he can also wear a uniform when he pleases. Due to being still connected to his traditional roots, you will see him wear deels even when the occasion doesn't call for it. For meetings and social occasions he may also wear a suit.
Usual wear:
Brief history:
 The Mongolian Empire wasn't necessarily a heartless killing machine, he was simply one of the last of a dying breed,  he came to power when the other Empires around him were falling, he was raised to fight the likes of Germania, The Roman empire and Ancient Greece,  only when he was finally strong enough to do so…they were all gone, he was /born/ to fight those who ruled the world and when the only one strong enough to stop him, China, fell under his power, he saw no other option but to fight the ancients' descendants in hopes of finding an opponent worthy of his skill….he found none.
The Culture of Mongolia has been heavily influenced by the Mongol nomadic way of life. Other important influences are from Tibet and Tibetan Buddhism, and from China. Since the 20th century, Russian and, via Russia, European cultures have had a strong effect on Mongolia.
Horses have always played an important role in daily life as well as in the arts. Mongols have a lot of epic heroes from the ancient time. Hospitality is so important in the steppes that it is traditionally taken for granted. The Mongolian word for hero, baatar, appears frequently in personal names.
Mongolia has a very old musical tradition. Key traditional elements are throat-singing, the Morin Khuur (horse head fiddle) and other string instruments, and several types of songs.
Capital:
Ulaanbaatar- but he rarely stays in one place, he still enjoys the nomadic life and loves moving across the mogolian steppes and visits other countries as well
Religious affiliation:
Tibetan Buddhism
Any special powers or abilities/ Hobbies:
His favorite past times are wrestling, archery,horse riding and wood carving
He sometimes likes to speak about past conquests where he ruled over vast territories. (maybe drinking a cup of Airag while doing so)
*Airag (Mongolian spirits aka. an alcoholic drink) He used to drink a lot more vodka when it was introduced to his country but because of the problems it created he decided to go back to his traditional alcoholic drinks
He is physically very strong and can split concrete in two with his bare hands 
"Often times others back then thought I was not someone to watch out for."
"Then they took an arrow to the face and their land was taken over."