(( My old account got deleted so I'm resubmitting))
Name:
Chrysta Kronband
Representative of:
Saturn
Gender:
Female
Age:
Appears around the age of 17 human years, but is as old as the universe itself
Brief personality:
She seems to be in a world all her own, she loves to try new things and feels she doesn't need things such as love and friendship. But that doesn't stop her from trying to talk to people and is just naturally curious about people, often leaping over personal boundaries. If you need someone to help push you past your comfort zone, Chrysta is your girl. She loves to dance and sing and gardening as well, even if she can only do it on earth for the time being. She is determined to find a way to be able to grow things on her own planet. She doesn't really have a filter on her mouth either, so she will say what she wants without any tact or conscious.Still, she doesn't mean to be spiteful and is much like a child who never was taught any better.  
Brief physical description: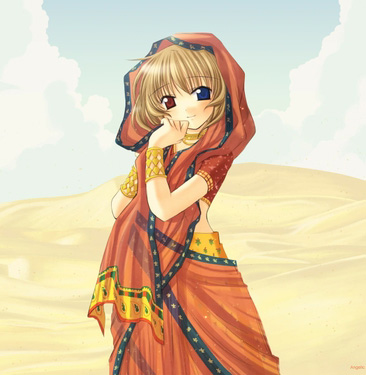 Chrysta is probably one the taller planets, nearly reaching 6 feet, with two different colored eyes, one blue, one red. She has cropped golden hair that frames her face perfectly and is often seen wearing strange clothing. She loves loose and light weight clothes so most of the clothing resembles old arabic or indian clothing. She also wears several rings and bracelets to symbolize her love for her moons. She has several and treats them like her own children. Her favorite colors are red and gold so most of her clothes are like that. Even down to her red slip on shoes.
Brief history:
Spoiler:
Religious affiliation:
None, if she believes in anything its the big bang theory.
Any special powers or abilities:
She owns a sickle that has power to stop and accelerate time, however the power only works on plants or trees considering that Saturn both is known to hold sway over time and agriculture. She has quite the green thumb and often most plants will grow well and thrive even in the desolate of environments. Well, except her own planet.